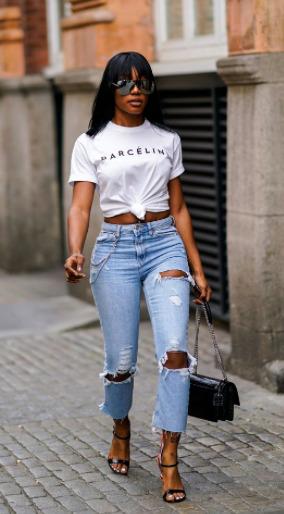 Jeans and t-shirts are timeless wardrobe staples that are loved by both men and women alike. They are versatile and can be dressed up or down depending on the occasion. The key to elevating this classic look is by pairing it with the right accessories. In this blog, we will explore different types of accessories that you can pair with jeans and a tee to create a stylish and fashionable look.
Statement Jewelry
One of the easiest ways to add some flair to your jeans and tee outfit is by wearing statement jewelry. Bold necklaces, chandelier earrings, and stacked bangles are perfect for dressing up your look. Choose jewelry that complements the color of your t-shirt and jeans for a cohesive look.
Scarves
Scarves are an excellent accessory for adding a pop of color and texture to your outfit. You can wear them in different styles such as knotting them around your neck, draping them over your shoulders, or wrapping them around your waist as a belt. They are perfect for transitioning from season to season and can be made from different materials such as silk, cotton, or wool.
Hats
Hats are not only functional but also add an element of style to your outfit. Fedora hats, baseball caps, and beanies are all great options to pair with your jeans and tee. Not only do they protect your face from the sun, but they also add an extra layer of style to your overall look.
Belts
Belts are a great way to cinch in your waist and create a more flattering silhouette. You can choose from different styles such as skinny, wide, or embellished belts. They can also be worn in various colors and materials such as leather or fabric.
Shoes
Shoes can make or break your outfit, so it's essential to choose the right pair to complement your jeans and tee. Sneakers are perfect for a casual, laid-back look, while ankle boots or heels can dress up your outfit for a night out. Depending on the season and occasion, you can choose from different styles such as sandals, loafers, or pumps.
In conclusion, accessories are the key to elevating your jeans and tee outfit to the next level. Whether you choose statement jewelry, scarves, hats, belts, or shoes, there are endless ways to add some flair to this classic look. Remember to choose accessories that complement your outfit, and you'll be sure to turn heads wherever you go!