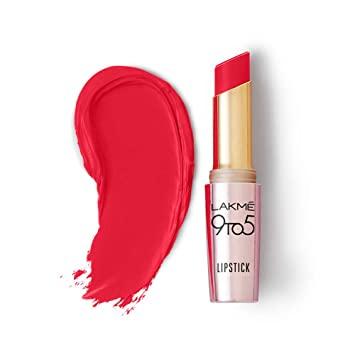 There are many amazing benefits of wearing red lipstick. This bold color can take an outfit from dull to fantastic in seconds, which is why it's the quickest way to transform your look completely! Red lipsticks come with a wide range of finishes and formulas that make finding one you love difficult. To help narrow down your selection process, I've created this list of some great picks sold in India!
MAC Retro Matte Lipstick in Ruby Woo

Image Credits: https://www.stylehaat.com/2036-thickbox_default/mac-retro-matte-lipstick-ruby-woo.jpgThis bright red lipstick is perfect for you if you love classic makeup looks with blue-based undertones. This matte shade flatters all skin tones and makes your teeth look brighter in photos! No matter what type of finish or color preference, this timeless piece should be part of every beauty lover's collection to mix things up a bit when it comes time for an event that requires more formal attire.
Maybelline New York Color Sensational Lipstick in Divine Wine
This deep red lip color is perfect for special occasions. It's matte finish makes it ideal to wear anywhere from the office, dinner party or even on a date! This lipstick applies evenly and smoothly with its creamy formula that feels great throughout the day. If you have dry lips like I do, this shade will keep your pout looking fabulous all night long without feeling too heavy thanks to Maybelline's moisture infusion technology!
Sugar Smudge Me Not Liquid Lipstick in Drop Dead Red
Image Credits: https://cdn.shopify.com/s/files/1/1301/1643/products/sugar-cosmetics-liquid-lipstick-smudge-me-not-lip-duo-10-drop-dead-red-6720074154080_1200x1200.jpg?v=1594568027This terracotta red lipstick balances a delicate pigment that makes your pout stand out without the doubt. With just one swipe, you'll achieve a full-blooded burst of color and it will stay put through the day! This matte formula sets into place with no coffee or kisses in sight!
L'Oreal Paris Color Riche Moist Matte Lipstick in Pure Rouge
Image Credits: https://assets.myntassets.com/fl_progressive/h_960,q_80,w_720/v1/assets/images/1967142/2018/10/31/4b0f0832-3acc-4fe7-92af-ab7305b5cdfa1540977490086-LOreal-Paris-Color-Riche-266-Pure-Rouge-Freida-Pinto-Matte-L-1.jpgL'Oreal's Color Riche Moist Matte lipstick in Pure Rouge is a neutral red color that looks darker when viewed from the container but like an extremely intense and bright red on your lips. In just one swipe, you get a bold dose of this powerful shade that stays in place through the day without smudging or transferring to other surfaces easily. This perfect matte finish suits all Indian skin tones and will give you hours of beauty satisfaction with its incredible longevity!
Revlon Super Lustrous Lipstick in Love That Red
Image Credits: https://n3.sdlcdn.com/imgs/h/b/1/Revlon-Super-Lustrous-Lipstick-Love-SDL985964785-1-c0e4c.jpgRevlon's bright red shade is a classic that has an extremely creamy formula infused with vitamin E and avocado oil. It helps you achieve bold, one-swipe color for your lips while being very hydrating. This lipstick works well on Indian skin tones due to its moisturizing properties.
Avon True Color Perfectly Matte Lipstick in Red Supreme
Image Credits: https://m.media-amazon.com/images/I/31uVBb8IhGL.jpgAvon True Color Perfectly Matte lipstick redefines matte lipsticks. The incredibly smooth formula provides a lightweight, velvety feel and keeps moisture sealed in for hours of wear time. Wearing this classic shade with a slightly cool-toned medium deep red is perfect if you have fair to medium skin tone or dusky complexion as it will not cake nor crack on the lips throughout the day while providing vivid color that lasts for hours after applying just one layer!
Lakmé 9 To 5 Primer + Matte Lipstick in Red Letter
Image Credits: https://images-static.nykaa.com/media/catalog/product/2/e/2e79f0524846_s11-8901030794292.jpg?tr=w-500,pr-trueIf you enjoy cherry-toned lipsticks, this is one shade that will undoubtedly become your new favorite. It goes on smoothly and does not flake or smudge, thanks to the built in primer included with Lakmé's lipstick. This bright red color has coral undertones and lasts for hours without reapplication!
Almay Smart Shade Butter Kiss Lipstick in Red
Image Credits: https://m.media-amazon.com/images/I/51Zxb9YKz9L._SX522_.jpgIf you're a fan of hydrating lipstick formulas, this one from Almay is the best. This luminous shade of red looks more natural on you when compared to traditional lipsticks. It has a buttery texture that glides smoothly and leaves your lips with an even wash of sheer color without looking too heavy or thick like other lipsticks would do to them. You can use it alone for subtle effects or over another lipstick if you want something bolder instead!