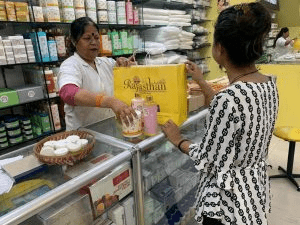 Pune is well known for its rich heritage and cultural diversity. But did you know that Pune is also a city with a thriving beauty market? With a wide variety of beauty Shops to choose from, Pune is the perfect place to find the different products and services to help you look and feel your best. In this blog post, we will explore the best beauty markets in Pune.
So whether you are looking for traditional Indian cosmetics or the latest Western brands, you will find it all in Pune. So what are you waiting for? Start exploring the best beauty markets in Pune today!
Pune's beauty market is a flourishing industry, experiencing remarkable growth as more individuals seek to enhance their natural beauty. From cosmetics and skincare to haircare and wellness, the city offers a vibrant and diverse range of products and services to cater to every beauty need and desire. With a focus on quality and innovation, Pune's beauty market is constantly evolving to stay ahead of the latest trends and meet the evolving demands of its discerning consumers.
Exploring Pune's Beauty Hotspots
Pune is a city brimming with enchanting beauty hotspots, each offering its own unique charm and an extensive selection of beauty shops. Let's embark on a journey to discover some of the areas in Pune that stand out for their vibrant beauty markets:
MG Road: As one of Pune's bustling shopping districts, MG Road is a haven for beauty lovers. This vibrant area is home to a mix of local beauty shops, popular high-street brands, and cosmetic wholesalers, catering to a wide range of budgets and preferences. Exploring MG Road is like embarking on an exciting treasure hunt for beauty treasures.
FC Road: Fergusson College Road, fondly known as FC Road, is a hub of youthful energy and affordability. This bustling stretch features a plethora of cosmetic stores, beauty salons, and spas, making it an ideal destination for those seeking quality beauty options at competitive prices. FC Road is a paradise for budget-conscious beauty enthusiasts.
Laxmi Road: It's a must-visit destination with diverse stores catering to all beauty needs, from small independents to multinational brands. Find unique products, from traditional to high-end, and immerse yourself in the vibrant atmosphere. Explore and unearth beauty treasures at Laxmi Road.
Aundh: With its rapid commercial and residential development, Aundh has emerged as a vibrant beauty market in Pune. This area offers a diverse array of beauty options, ranging from established beauty brands to organic skincare outlets and modern salons. Aundh provides a perfect blend of convenience and variety for beauty aficionados.
Budhwar Peth: This historic locality is renowned for its diverse range of beauty products, from traditional Indian cosmetics to trendy Western brands. Don't miss Rajasthan Beauty Products, a symbol of excellence and heritage. Explore the charm of Budhwar Peth and uncover its beautiful treasures.
Rajasthan Beauty Products: A Heritage of Beauty and Quality:
In Pune's beauty market, the prestigious Rajasthan Beauty Products cannot be overlooked. Rajasthan Beauty Products has established itself as one of the biggest and most recognized businesses beauty products and Cosmetics Shop in Pune. Rajasthan Beauty Products has been in business for over 38 years and has a wide range of products and services to offer. From skincare to hair care, Rajasthan Beauty Products have garnered immense popularity among Pune's beauty enthusiasts. With a rich history and commitment to excellence, we have become a trusted name known for our exceptional products and customer-centric approach. Pune's residents have relied on us for their beauty needs, making us a leading choice in the city's beauty market.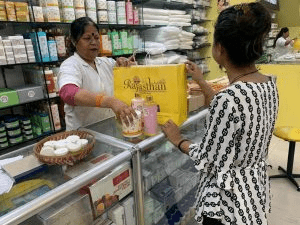 Now you can shop all the products from Pune's oldest beauty shop online too!

The beauty market in Pune is a thriving industry with a wide variety of options. Whether you are looking for traditional Indian cosmetics or the latest Western brands, you can find it all in Pune. With so many great beauty businesses to choose from, you are sure to find the perfect products and services to help you look and feel your best.