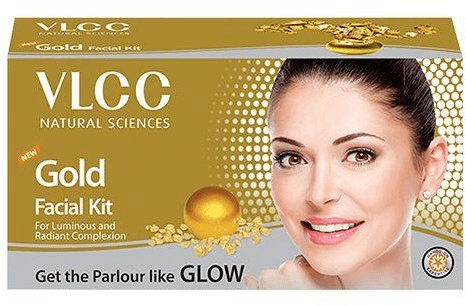 In this fast-paced world, we all are in dire need of one thing and that's time. Be it getting the time to leisurely enjoy our favorite breakfast, or making sure to not turn up late for the date which we have been postponing for weeks now.
When it comes to skin, one has to be quick on the draw on finding solutions to all our skin problems. A facial kit is an ideal fix for organizing all skin problems at one go as it is a compilation of various products, tubes, and cream in one small package which can be sorted out based on your skin type and problems. Pretty handy!
There are so many kinds of facial kits in the market and then there are ones from our grandma's old books. It is almost impossible to choose the right one for your skin type and which is accessible at the same time. Here is a list of our favorites to make your job easier-
1. VLCC Facial kit
This product has set the benchmark of being the customer's go-to product. Gold is known for its anti-aging benefits and VLCC has definitely curated all the benefits of the precious metal that prevents premature aging, boosts metabolism and hydration in the skin, reduces pigmentation, fine lines, wrinkles, and spots while boosting collagen to give you smooth, lustrous, radiant and youthful skin in a few regular uses.
(Image Credit: https://www.bigbasket.com/media/uploads/p/l/307406_6-vlcc-gold-facial-kit.jpg )
2. Indrani Cosmetics' Almond Facial Kit
This kit is one of the most luxurious, premium quality, and affordable facial kits available at your doorstep and best suited for dull and dry skin. With the goodness of almonds, the kit is a combination of rose cleansing milk, almond massage cream, apricot scrub, aloe vera massage gel, almond face pack, and toner and will give you a couple of good uses. Almonds have been an active ingredient in beauty recipes for thousands of years and is known to give you baby soft skin, even skin tone, improve complexion, treat acne and reverse sun damage. The best part is that it is available on your doorstep at a very affordable price! You can get your own kit on Amazon!
(Image Credit: https://indranicosmetics.com/wp-content/uploads/2020/12/IMG_5100-scaled.jpg )
3. 03+ Glow As You Go
An ultimate kit enriched with brightening and calming properties for oily skin, this kit consists of Brightening & Whitening Face Wash, Volcano Scrub, Derma Fresh Mask, and Aloe Derma Hydrating Gel. It is suitable for everyday use, and works to eliminate dullness, boosts skin radiance & glow, controls oil, and prevents future acne. The kit is a little on the bigger budget side but you can get multiple uses out of it to give your skin a freshness booster. This facial also helps in hydrating the skin while eliminating impurities making it ideal after a tiring day.
(Image Credit: https://m.media-amazon.com/images/I/61T3GX2hCxL._SL1500_.jpg )
4. Olivia Di-Pigmentation Facial Kit
The Olivia Di-Pigmentation Facial Kit comprises the Cleanser, Scrub, Massage Cream, Face Pack, and Serum. A quick facial and consistent use gives your skin a uniform skin tone along with a beautifully enhanced glow. Rich with Papaya extract, Vitamin E, B3, B5, Olive Oil, Licorice, and Punarnava which conditions your skin whilst protecting and moisturizing it, helps activate the cleansing action of clogged pores and eliminate the dirt from the layers of the skin. This treatment helps in conditioning, brightening, and increasing the firmness of your skin and is ideal for all skin types.
(Image Credits:
https://images-na.ssl-images-amazon.com/images/I/71T3slmMHSL._SL1500_.jpg )
5. Oatmeal Facial
Oatmeal is more than just a cereal that helps lower high cholesterol. It contains avenanthramides, antioxidant and anti-inflammatory compounds that soothe itchy, dry, and irritated skin. Moreover, it is great for acne-prone skin because it absorbs oil from the skin's surface. The best part being, you can prepare it with the ingredients in your kitchen in less than a minute. Cook one serving of oatmeal. Add two tablespoons of honey to hot oatmeal. Allow the oatmeal to cool and then apply to the face. Leave on for 10-15 minutes, then rinse with tepid water.
(Image Credits: https://www.subbuskitchen.com/wp-content/uploads/2018/01/AN491-Oats-732×549-thumb.jpg)