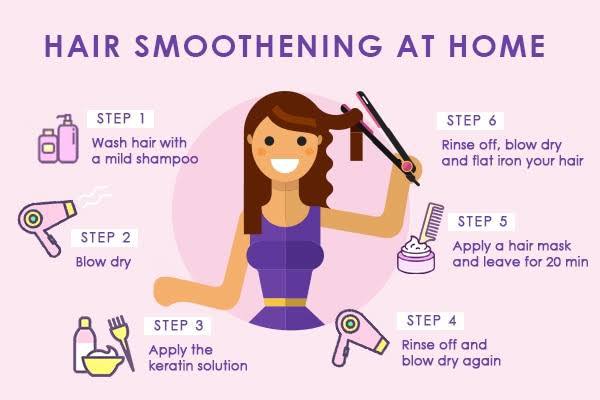 Women try so hard on their hair in the hopes of having those shiny, smooth, and silky tresses. The list of things to attempt for dazzling healthy hair is simply too long, ranging from home cures to professional hair treatments like hair smoothening or hair straightening. However, the impact of these hair care regimens on each female is determined by a variety of factors. We all have distinct hair growth levels, as well as variable hair quality, length, and volume, and we all care for our hair in different ways, which all have an affect on our hair growth and health.
Are you the one with curly, wavy, or frizzy hair? While there can never be enough discussion about hair care, there are only a few options for straightening hair. Hair smoothening and straightening are the most prevalent.
Hair smoothening treatments are typically performed in salons, parlours, or by beauty professionals. Hair smoothing and hair straightening are both chemical treatments. As a result, expert supervision is strongly recommended. There are a few home hacks that can be used at home to get salon-perfected silky hair.
Smoothing your hair might be beneficial if you have frizzy, wavy, or somewhat curly hair. This treatment softens, shines, and smoothes your curls, making them manageable for a couple of weeks. Hair is saturated in formaldehyde solution (warning: this solution is a suspected carcinogen chemical; carcinogen*: a substance capable of cause cancer in live tissue) throughout this technique.
Smoothing results in frizz-free, silky hair that can persist for up to 6 months or longer. It is not, however, intended to give you poker-straight hair.
Use a gentle shampoo to wash your hair. After that, don't condition your hair.
• Blow-dry your hair completely to eradicate any traces of dampness.
• Part your hair into four pieces using pins.
• Apply a generous amount of Keratin solution to each region of parted hair.
• Use a comb with thick teeth to properly distribute the solution throughout your hair. Allow it to sit for 25 to 30 minutes.
• Comb out hair every 7-10 minutes after applying Keratin solution.
• Rinse your hair and blow-dry it one more.
• Cover your head with a hair mask and leave it on for 20 minutes. You can also cover your head with a shower cap.
• Use lukewarm water to rinse your hair.
• To seal your hair, blow-dry and flat-iron it 8-10 times.