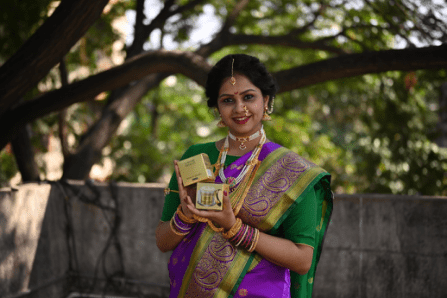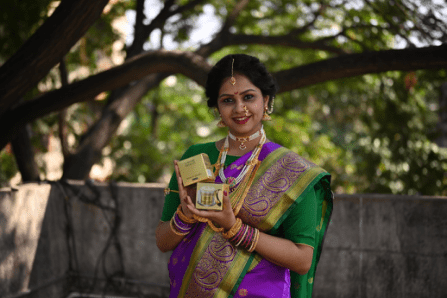 Diwali, the festival of lights, is an eagerly awaited time when homes are adorned with diyas, rangolis decorate the entrance, and families come together to celebrate the triumph of light over darkness. It's also an occasion to dress in our finest, and what better way to complement your festive attire than with a stunning Diwali makeup look? Whether you're drawn to the timeless elegance of classic makeup or eager to explore modern, bold styles, this blog will guide you through step-by-step instructions for both, ensuring you dazzle amidst the brilliance of Diwali.
Classic Diwali Makeup Look for 2023
1. Prep Your Canvas:
Begin your makeup journey with a clean, moisturized face. Applying a primer not only ensures your makeup stays intact but also provides a smooth base for an even application.
2. Foundation Magic:
Select a foundation that seamlessly blends with your skin tone, aiming for a natural finish. Proper blending is key to achieving that flawless look that lasts throughout the festivities.
3. Conceal and Contour:
Conceal any imperfections or dark circles with a reliable concealer. To add dimension and warmth to your face, apply bronzer strategically for subtle contouring.
4. Rosy Cheeks:
A touch of blush on the apples of your cheeks adds a healthy flush, radiating a vibrant and festive aura.
5. Eyes that Sparkle:
The eyes are the focal point of any makeup look. Start with a neutral transition shade in the crease, followed by a deeper hue on the outer corners for added depth. Introduce shimmer or glitter on the eyelids for that extra festive flair. Accentuate your eyes with a defined line using a black or brown eyeliner, curl your lashes, and apply mascara generously for a captivating gaze.
6. Luscious Lips:
Choose a lipstick shade that complements the season, such as deep reds, berries, or plums. This finishing touch ties the entire classic Diwali makeup look together, exuding sophistication and charm.
Modern Diwali Makeup Look 2023
1. Glitter Eyes:
For a modern twist, elevate your eye makeup with glitter. Whether you decide on an all-over application or focus on the inner corners, the shimmer adds a contemporary and glamorous dimension to your look.
2. Smokey Eye Elegance:
The timeless smokey eye is a versatile choice that exudes sophistication. Blend a dark eyeshadow into the crease and towards the hairline, incorporating a lighter shade on the eyelid for a gradient effect. Finish with a black eyeliner and mascara to intensify the drama.
3. Bold Lips for Impact:
Make a statement with bold lip colors. A well-defined lip using a matching lip liner enhances the overall look, making your lips a focal point of your modern Diwali makeup.
4. Traditional Touches:
To infuse tradition into your modern look, consider adding elements like bindis and mehendi. The bindi, delicately placed on the forehead, adds cultural charm, while mehendi offers a unique and artistic touch to your hands, feet, or arms.
Ideas for Multiple Diwali Makeup Looks
Regal Gold and Reds:
Eyes: Begin with a neutral base and apply a rich gold eyeshadow across the lid. Deepen the crease with a warm brown shade and add a touch of shimmer to the centre of the lid. Winged eyeliner in black or deep brown enhances the regal feel.
Lips: Opt for a classic red lipstick, ensuring it complements your skin undertones. A matte finish can add sophistication, while a glossy texture can bring a touch of modernity.
Face: Keep the face luminous with a golden highlighter on the high points of the face, such as the cheekbones and the bridge of the nose. Soft blush in warm tones completes the look.
Traditional Touch: Add a small red bindi for a traditional touch that ties the entire regal look together.
Enchanting Green Smokey Eyes:
Eyes: Build a captivating smokey eye with deep green eyeshadow. Start with a medium green in the crease, intensify with a darker shade in the outer corners, and add a pop of shimmer on the centre of the lid. A thin line of black eyeliner and voluminous lashes complete the look.
Lips: Balance the bold eyes with a nude or peachy lip colour to keep the focus on the enchanting green hues.
Face: A subtle contour and highlight enhance the facial features, ensuring a harmonious overall appearance.
Modern Twist: Embrace a modern twist by adding small green or silver rhinestones along the lower lash line for added enchantment.
Ethereal Pastels:
Eyes: Create a dreamy look with pastel eyeshadows in soft pinks, lavender, and mint green. Blend these shades for a seamless transition and add a touch of iridescence with a shimmering eyeshadow on the centre of the lid.
Lips: Choose a soft, neutral lip colour, such as a light pink or peach, to maintain the ethereal vibe.
Face: Keep the face fresh and luminous with a subtle highlight and a soft, rosy blush.
Accessorize: Consider adding delicate floral or pastel-colored hair accessories for a whimsical touch.
Dramatic Blue Accents:
Eyes: Introduce drama with bold blue eyeliner or eyeshadow. Create a winged eyeliner look or a vibrant blue smokey eye for a striking effect.
Lips: Balance the intensity of the eyes with a neutral or muted lip colour. A nude or light pink lipstick works well to keep the focus on the eyes.
Face: Keep the face neutral with a matte finish foundation and a subtle contour to define the features.
Statement Nails: Carry the blue theme to your nails with a bold blue nail polish or nail art for a cohesive look.
Radiant Orange and Gold:
Eyes: Embrace the warmth of Diwali with a blend of vibrant orange and gold eyeshadows. Apply a rich orange shade in the crease, add gold to the lid, and deepen the outer corners for dimension.
Lips: Choose an orange or coral lipstick to complement the eye makeup. A glossy finish adds a touch of radiance.
Face: Enhance the warmth with a peachy blush and a golden highlighter on the high points of the face.
Accessories: Consider adorning your hair with small gold hairpins or accessories for an extra radiant touch.
Tips for Diwali Makeup
1. Opt for Long-Lasting Products:
Given the festivities, it's crucial to use long-lasting foundation, concealer, and lipstick to ensure your makeup remains impeccable throughout the celebrations.
2. Embrace Experimentation:
Diwali is the perfect opportunity to step out of your comfort zone and experiment with colours and finishes you might not typically choose. Allow the celebration to inspire your creativity.
3. Enjoy the Process:
Above all, remember that Diwali is a time for joy and celebration. Have fun with your makeup, let your creativity flow, and relish the process of transforming into a radiant and confident version of yourself.
Conclusion:
As the lights twinkle and festivities unfold, let your Diwali makeup be an extension of the joy and vibrancy this occasion brings. Whether you opt for the classic allure or the modern edge, or perhaps decide to showcase multiple looks during the celebrations, the key is to revel in the celebration and feel confident in your glamorous Diwali look. May your makeup shine as brightly as the diyas, illuminating the festival of lights with your beauty. Happy Diwali!