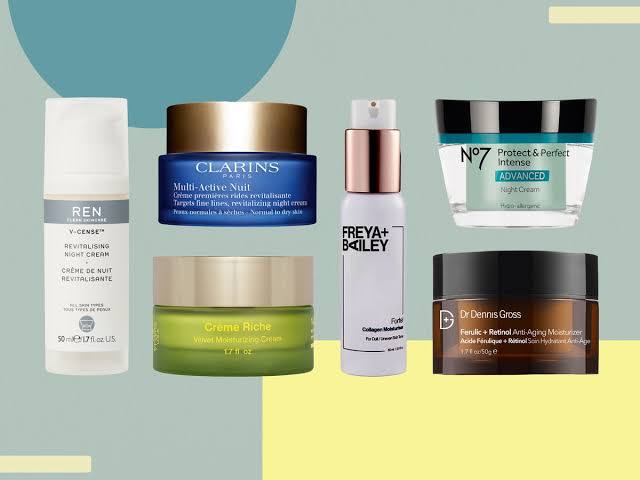 Without the correct moisturiser to seal in all of your products, your evening skincare routine is incomplete. While you sleep, a night cream can also operate as a treatment, providing targeted action to address certain skin conditions. Fortunately, there are tailored solutions on the market that address your specific skin concerns. But how do you go about determining which formula is best for you? Of course, check the labels! Yes, components are crucial in addressing specific issues, and we've chosen the best for you. Take a look at them.
Hyaluronic acid for dry, dehydrated skin
Vitamin C for brightening
Niacinamide for a collagen boost
Retinol for anti-ageing
Aloe vera for calming
While sleeping, everyone loses hydration from their skin, albeit some lose more than others. If you have dehydrated skin that feels tight in the morning, you should include hyaluronic acid in your bedtime routine. Hyaluronic acid aids in the enhancement and maintenance of your skin's natural hydration. Long-term use of hyaluronic acid has also been linked to an improvement in your skin's natural ability to stay hydrated.
If you have droopy or weary skin, niacinamide may be of assistance. This key component has been shown to increase collagen production in the skin. The normal process of ageing causes your body to lose more collagen than it creates, which is undesirable because collagen is one of your skin's building components.
Retinol is a powerful component that aids in cell turnover and the prevention of fine lines and wrinkles in the skin. However, because of how powerful this ingredient is, some people find retinol serums to be too much for their skin. Instead, you can use a retinol-infused night lotion to get all of the anti-aging advantages without the discomfort.
If you spend a lot of time in the sun, your skin will benefit from a relaxing cream at night. Aloe vera is a potent antioxidant that can help reduce inflammation in the skin. Aloe is the way to go if you're seeking for a night lotion that will soothe and calm your skin as you sleep!
If you're into skincare (or even if you're not), you're probably aware of how popular clay masks have become in recent years. Clay masks are genuinely God-sent, from pulling out deep-set impurities to lightening dull and fatigued complexions.
But did you know that putting multiple masks to different areas of your face at the same time is the most effective way to use them? The fundamental benefit of multi-masking, also known as multi-tasking, is that it allows you to treat multiple skin conditions at the same time. If you have an oily T-zone but dry cheeks, for example, putting an oil-controlling mask all over your face would only make things worse by drying out and dehydrating your skin.