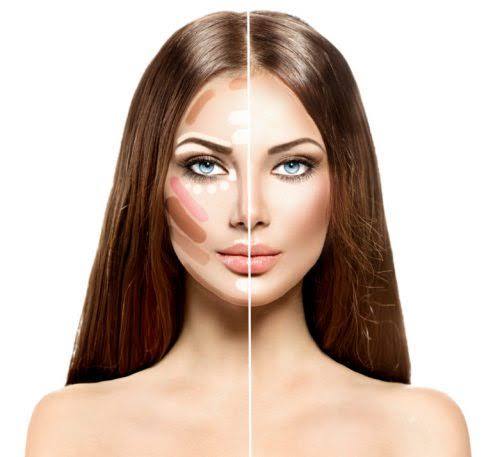 Kim Kardashian popularised contouring by using it on a regular basis to improve the appearance of her facial bone structure. Women all over the world are enamored with this make-up technique, despite the fact that it takes a long time and a lot of practice to contour your face properly. But did you know that contouring has become such a craze that there are now numerous forms of it? We'll tell you which ones they are. Here are three methods to contour your face.
Classic contouring
This is the most basic sort of contouring, which you've probably seen Kim do all the time to give herself a smaller appearance. A combination of dark and light tones of make-up are used on the face to make your features, such as your nose, jawline, and cheekbones, appear sharper.
Clown contouring
If you do this, not after the process, but throughout it, you will unmistakably resemble a clown. This is because clown contouring combines a variety of colours to assist you address whatever face defects you may have. What started as a way to silence detractors quickly turned into a make-up craze. However, the end product will astound you.
Henna contouring
If you thought henna was only for hair, you'll be pleased to learn that it can also be used to contour your face. Others followed suit after one make-up professional tried it on herself. This may be harder to master, but even before you see the finished product, it looks stunning. You may not want to blend the artwork because it is so beautiful.
Lip contouring
Contouring isn't just for the face anymore; make-up professionals are also contouring other parts of the body, including the lips. This is done to give your lips a pouty and voluminous appearance. Applying different shades of lip colour, such as lighter ones in the middle and darker ones on the outer corners, is the trick.
Breast contouring
It's also known as d colletage contouring, and it uses bronzer and highlighter to give your bosom a larger appearance. If you don't want to go under the knife or don't like using push-up bras, use this method to make your boobs appear larger.
Hair contouring
It's not to make your hair look better, but to make your face look better by using the proper colours on your tresses. Basically, you have highlights and lowlights in various areas that can help you accentuate your facial features and provide the illusion of a beautiful bone structure. It's advisable to get a professional to handle it because you won't be able to do it yourself at home.
Hope this helped!